Vesuvio Wood Fired Ovens
Italy's original wood fired pizza oven, nothing compares to the original brick oven...
Vesuvio Wood Fired Ovens offers the largest range of residential wood fired ovens in Sydney. There are several different models and various sizes to choose from, suiting any budget, lifestyle or setting.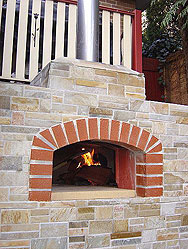 Italy's Original Wood fired Oven
Vesuvio Wood Fired Ovens originate from the Tuscan region of Italy.
First Crafted by the Valoriani family over 50 years ago, Vesuvio Wood Fired Ovens are Italy's original wood fired oven with over 250,000 commercial and domestic ovens now sold worldwide.
Manufactured in Italy from the highest quality refractory materials, a Vesuvio wood fired oven provides exceptional and consistent performance due to the oven's outstanding heat retention capability, fuel efficiency and consistent cooking results.
The basis of this success is the oven cooking floor that is made from 100% natural cotto clay quarried from the hills of Tuscany.
Cooking With a Wood Fired Oven
The traditional and timeless method of wood fired cooking has become increasingly popular. Cooking with a wood fired oven offers a great deal of versatility. Various different cooking methods can be used including baking, braising, stewing, sautèing, smoking, roasting or seering in juices. No matter what method is employed, moisture and flavour are retained, ensuring a juicy succulent result every time.
Visit the website for full details.

Vesuvio Wood Fired Ovens
Unit 40, 65 Marigold St, Revesby, Sydney
(02) 97924999