Steves Fine Wine European Wine Dinner & Masterclass
French Champagne, German Rieslings, White Burgundy & Red Burgundy Paired with Food
Many Australian wine lovers can find European wines a bit of a challenge. Given an almost endless selection of acceptable Australian wines at very competitive prices, many don't feel the need to stretch their wine experiences much beyond our shores.
And for someone new to European wines, just getting their head around the complexity of numerous, vastly different wine regions, unfamiliar wine styles and variable price points can be enough to have them diving for another Margaret River SSB or Barossa Shiraz.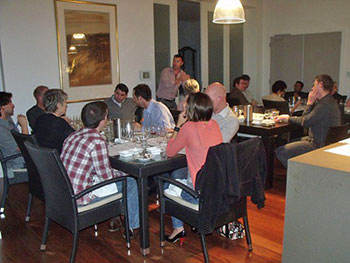 Steves Fine Wine
The guys at Steves Fine Wines in Nedlands, however, are working very hard to remove these barriers, holding regular wine tastings that showcase approachable and often very affordable wines from the world's leading wine producing regions.
As people are more likely to try a foreign wine experience in the context of food, these tastings usually include clever food pairings that can completely change the nature of a wine and open up the palate to entirely new flavour sensations.
European Wine Dinner & Masterclass
Steves recently took this concept a step further, putting on a wine dinner and masterclass hosted by Neville Yates, owner of Eurocentric Wine. Eurocentric are wine importers that focus on the boutique end of European wines, sourcing relatively small quantities of wine from lesser known producers whose wines display genuine regional characteristics, but with points of difference that set them apart from more mainstream imports.
Neville is a career journalist turned wine importer with a passion for French champagne, Burgundy and German Riesling, tastes that were reflected in the four brackets of wines presented on the evening. His knowlege and down to earth perspective on European wines made for both an enjoyable and educational experience.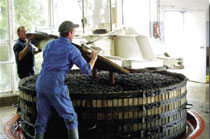 French Champagne
First up were the champagnes. When people think French champagne, most will immediately think of the big, well branded houses - perhaps Bolinger, Veuve Clicquot, Dom Perignon to name a few, but there are well over 400 champagne producers in France offering a wide range of quality and styles.
Featured on the night were a selection of wines from Ployez-Jacquemart, a smaller producer with a big reputation, being ranked 14th of all Champagne producers by Revue du vin de France, and the only small producer in the top 29.
Champagne is, of course, great food wine and the Ployez-Jacquemart wines - a NV (non-vintage) Brut, a NV Rose and the 2002 Vintage - proved no exception to this, working equally as well with fresh oysters and some smoked trout canapes.
To the lesser educated palate, there seemed little to separate the Brut and the Vintage, both displaying everything you would expect from a quality French Champagne, delicately yeasty on the nose, tight beading and a fabulous creamy mouth feel.
On the other hand, the Rose was distinctive for its gentle fruity aromas of strawberry and raspberry as well as its weight, light enough to serve as an aperitif, but with enough substance to pair extremely well with lighter styles of food.
German Rieslings
Next was a selection of 2 German rieslings. Unfortunately, as a bit of a nasty hangover from the 70's, many Australians think of German wines as being overly sweet and fruity (remember Blue Nun) and will avoid them like the plague. That is until they try wines like the Emrich-Schonleber 2008 Trocken (Trocken means dry) or the 2008 Willi Schaefer Graacher QBA.
Both of these dry rieslings were very elegant in structure and subtle in character, yet packed with enough flavour to be real surprise packets when paired with pate canapes and a corned beef salad as they were on the night. German rieslings really are great food wines, perhaps because of their minerally character and clean acid finishes. Oh, and incredibly good value at around $30 a bottle for the wines presented.
White Burgundies
Most people who know a little bit about wine will know that White Burgundies are made from chardonnay. But until you taste them, you can't appreciate how different they are to most Australian chardonnays. In Australia, our palates are very much attuned to big flavoured, oak driven versions that could not be more different to the chardonnays of Burgundy.
The White Burgundies presented on the night both displayed characteristic minerality, elegance, subtle flavours and a complexity borne from quality French oak treatment and traditional wine making techniques.
Chablis and other White Burgundies are also superb food wines matching a wide range of foods, but probably none better than seafood where often slightly citrusy flavours and a usually clean finish enhance each mouthful. The paired dishes of pan seared snapper fillet and gently seared scallops were an emphatic testament to this.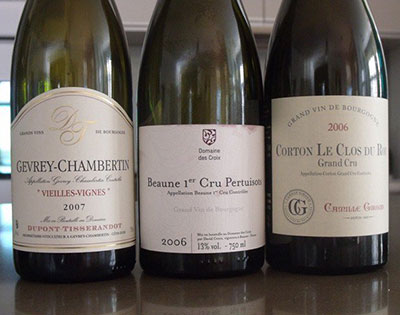 Red Burgundies
The holy grail of many wine lovers is good pinot noir at a reasonable price. With a limited range of quality Australian pinot noirs fitting this bill (Mornington Penninsula perhaps to one side), the search often goes off-shore, these days more likely to New Zealand.
Although most people would be aware that the best pinot noir in the world comes from Burgundy, the perception of high prices and regional complexity represent strong barriers to more people searching out wines from this classic French region.
The decision to buy a Red Burgundy or not should probably come down to value for money rather than simply price, and understanding the different levels of Burgundian wines can definitely help in this regard.
The selection of Red Burgundies for the night included a wine from each ascending level - Village (entry level), Premier Cru and Grand Cru (the best). The differences in the 3 wines were obvious, particularly between the Grand Cru and the other two lower level wines.
The Grand Cru, the 2006 Camille Giroud Corton Le Clos du Roi, was decidedly darker in colour, displaying intense fruit and substantial, but very agreeable, tannins. Whilst it drank extraordinarily well, it is priced at more than twice the asking price for each of the other wines and the question of value for money has to be asked. The verdict - the Village wine is an excellent pinot noir, but the Premier Cru 2006 Domaine des Croix Beaune Pertuisots at around $95 a bottle represented by far the best value for money.
Served with classic Burgundian fare, roasted duck breast and a plate of roasted pork belly on a white bean puree, these wines made for a heavenly pinot noir experience.
Spatlese Riesling
Reserving arguably the best wine for last, the cheese course was served with a 2007 Winninger Rottgen Riesling Spatlese. This beautifully aromatic wine was incredibly crisp and clean, with lush, fresh fruit sweetness perfectly counter balanced by acidity to produce a very pleasant mouth feel and a long, lingering finish.
The asking price for German riesling increases quite dramatically with sweetness. Again there are levels to look out for, ranging from Trocken (dryest and cheapest) to Trockenbeerenauslese (the sweetest and most expensive), with Spatlese fitting in just after Trocken and Kabinett in the sweetness pecking order. At around $50 a bottle, the Winninger Rottgen was a real winner on all counts.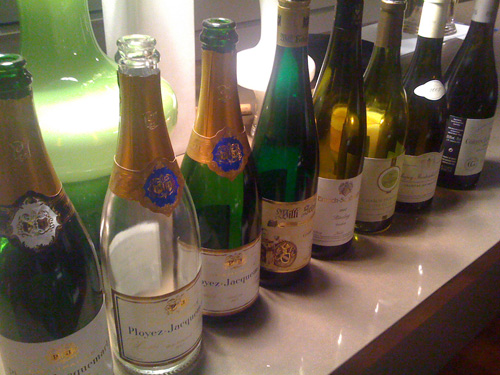 Full list of Wines
NV Ployez-Jacquemart EQ Brut
NV Ployez-Jacquemart Selection Rose
2002 Ployez-Jacquemart Vintage
2008 Willi Schaefer Graacher QBA
2008 Emrich-Schonleber Trocken
2007 Frederic Gueguen Cote de Lechet Chablis
2007 Puligny Montrachet Hameau de Blagny
2007 Dupont-Tisserandot Gevrey Chambertin Vieilles Vignes
2006 Domaine des Croix Beaune 1er cru Pertuisots
2006 Camille Giroud Corton Grand Cru Le Clos du Roi
2007 Winninger Rottgen Riesling Spatlese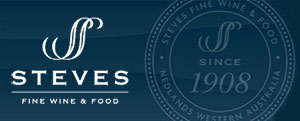 Steves Fine Wine
30 The Avenue, Nedlands, Perth WA
Ph: (08) 9386 5800
About Steves Fine Wines
Steves Fine Wine stock possibly the largest collection of wine in Australia, featuring wines from around the world including a comprehensive selection of back vintages from France's premier wine regions.
Resident wine guru Michael Hartley conducts regular in-house wine tastings and offers a personalised service to both new and experienced wine lovers alike. Michael specialises in the areas of imported and premium wines, with a passion for Burgundy.
Those never been spoilt by Steves cellared selection should pay a visit soon, browse the cellar and be amazed at the outstanding range of premium and boutique wines from around the world.
About EuroCentric Wines
The goal of Eurocentric Wine Imports is to bring Australian drinkers great wine from Europe and European-styled wines from other regions such as New Zealand and South Africa in as good condition as if you drank them at the winery.
The company is run by former career journalist, Neville Yates. Neville has a love of Burgundy, Champagne and German riesling, all of which as strongly represented in the Eurocentric wine portfolio.
Neville meets the winemakers in the vineyards and in the cellars, tastes at the source, negotiates good deals, chooses reliable refrigerated transport and delivers to Australia great wines at a reasonable cost through the retailers, restaurants and wine bars you know and trust. Retail sales are available through their website.