Salvage Hardwood Timber Board & Parquetry Flooring - Sydney
Create a Stunning Look with Salvage's Recycled Timber Board and Parquetry Flooring
Timber flooring is Salvage's speciality. A wide range of timber boards and imported timber flooring is available that will add warmth and richness to any project.
Select from new and recycled boards in unique timbers including Blackbutt, Spotted Gum, Ironbark and French Oak in sizes from 150mm to 250mm. All boards have been hand selected and precision milled at the Salvage Sawmill in Gatton.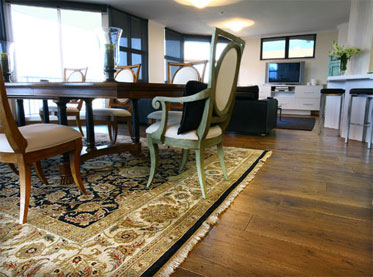 Recycled Hardwood Timber
Salvage seeks out recycled and rare hardwood that has been salvaged from old bridges, wharves and buildings. The wood is transported back to the Salvage Sawmill where it is precision milled into wide board hardwood flooring. Recycled Timber brings a stunning and rich appearance to your cladding, deck, flooring, stair treads and bench tops.
Hardwood Timber Flooring
Polished hardwood flooring is much sought after because of it's rich and the warm ambience it delivers. Recycled timber allows the ever growing demand for hardwood flooring to be satisfied and we currently wholesale nationally as well as export to the US.
Whether you prefer recycled or new, we can help you choose the right timber for your space to create a floor that will become a magnificent feature.
Recycled Parquetry Flooring
Salvage has a selection of French Oak Parquetry that will create not only a stunning aged look but also give your home or business a character derived from the timber's noble history. Excellent seasoned wood from vintage oak wine barrels is transformed into magnificent hardwood parquetry flooring.
A range of reclaimed French Oak parquetry panels is also available including a limited quantity of curved panels procured from a circular Ballroom. Panels can be custom stained to your requirement and installation arranged through a recommended professional flooring installer.
Visit the website for details.


Salvage Architectural Elements & Antiques
By Appointment Only
Email: lucy@salvage.com.au
Suite 5:05 (Level 5), 2 Hill Street, Surry Hills, NSW, 2010
Ph: 0409 300 333