Tips for Buying Quality Roller Blinds in Sydney
Some Important Considerations when Buying Quality Roller Blinds in Sydney
Perhaps more than any other decorative element in the home, window treatments need to be just as functional as they are stylish. And when it comes to combining style with function, roller blinds are just the answer.
Roller Blind Basics
There are many things to consider when choosing the right roller blinds for your home, with your final choice dependent upon the comfort, style and ambience you are looking to create. But before you even start looking at fabric styles and colours, there are a number of functional aspects to be explored.
Dual motorised roller blinds in screen and blockout fabrics.
Single or Dual Roller Blinds
One of the biggest considerations you'll need to make is deciding between single and dual roller blinds.
With dual blinds, the convenience and functionality of different fabric types can be combined to suit virtually every design requirement.
Just by choosing the right fabrics, you can enjoy daytime privacy with views outside whilst still being able to conveniently create an inviting night time ambience with full privacy.
When opting for a dual system, the elegance and simplicity of roller blinds is preserved by special duo blind brackets that allow two blinds to be fitted neatly inside a window sill or on the face of the window.
Methods of Roller Blind Operation
As well as standard chain operation, linked roller blind systems and motorised blinds can certainly add a good dollup of convenience to style. A linked roller blind system, for example, gives you the ability to operate up to three blinds from a single control point.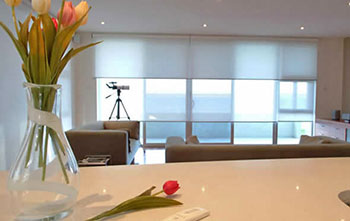 As well as delivering the ultimate in convenvince, motorised blinds also offer the capability to incorporate roller blind operation with other aspects of electronic home automation.
Nothing can be more impressive than all your blinds silently sliding into position at just the right time!
Fabric Choices for Roller Blinds
For roller blinds, there are several different types of fabric to choose from, including sheer, screen, translucent and block-out fabrics.
Your choice of fabric will essentially determine the amount of light and heat that can enter your home, as well as the level of privacy at different times of the day.
Sheer fabrics are transparent and can be easily seen through, offering very little privacy, but creating a soft dappled light effect.
Screen fabrics offer the unique capability of providing see-through visibility, heat control and privacy.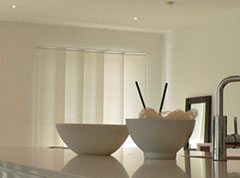 During the day when it's lighter outside, screen fabrics provide good privacy, but won't at night when the lighting situation is normally reversed.
Translucent fabrics will let light through but will not enable you to see objects through them like you can with sheer, screen or transparent fabrics.
Block-out fabrics provide 100% sun block and will provide a high degree of privacy, darken a room and control heat.
You can easily see how combining the right fabric combination in a dual blind system can achieve your exact design requirements.
Practical Considerations when Buying Roller Blinds
There are of course one or two practicalities to be taken into consideration when looking at roller blinds, including window shape and size.
Generally, roller blinds can range in width from 100mm up to 3000mm, and in drop from 100mm to a maximum of 4000mm. Note that larger widths and drops can sometimes be achieved.
There is no need to despair if you have windows that aren't conventionally shaped, as roller blinds can even be used on windows with irregular shapes such as triangles and trapezoids.
Working with an experienced designer and manufacturer of roller blinds such as Rolletna is the key when your window sizes and shapes are non-standard.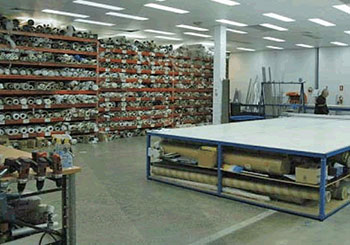 The Rolletna Advantage
Rolletna's roller blind solutions are designed with your individual needs in mind, and then manufactured in their Sydney based workshop.
Keeping the entire process local maintains consistency, a high level of quality and the attention to detail that provides their customers with premium roller blinds and impecable service.
Rolletna's trained and dedicated sales team can walk you through a wide variety of roller blinds and other window treatment solutions to ensure that you get the very best blind solution for your home.
Visit their extensive showroom in Rosebery, or any one of six display centres conveniently located across Sydney.


See Rolletna Roller Blinds in Display Centres Around Sydney:
A. ROLLETNA SHOWROOM & WORKSHOP
601 Botany Road, Rosebery, Sydney

Ph: (02) 9319 4333

Opening Hours:
Monday to Thursday: 9:00am to 5.00pm
Friday: 8:00am to 4:00pm
Saturday: 10:30am to 3:00pm
Other Times: By Appointment
B. Caringbah Homeworks Centre
Shop 4, 220 Taren Point Rd, Caringbah, Sydney
C. Belrose Supa Centa
Shop G07, 4-9 Niangala Place, Belrose, Sydney
D. Castle Hill Supa Centa
Shop 78, 16 Victoria Ave, Castle Hill, Sydney
E. Maison Bleu Interiors - Willoughby
497 Willoughby Rd, Willoughby, Sydney
F. Home Ideas Centre - Alexandria
61-63 O'Riordan St, Alexandria, Sydney
G. Traders at Moore Park Supa Centa
Shop 1j, 2a Todman Ave, Kensington, Sydney
About Rolletna
Rolletna is simply years ahead with it's screen roller blinds and eye-catching textured fabrics. Rolletna Window Furnishings set the standard in design and it's no wonder that the brand and product are so well loved by designers and architects.
The Rolletna Showroom showcases the latest in European window solutions and features roller blinds, roman blinds, cedar Venetians, motorised blinds, dual blinds, external motorised blinds, external motorised Venetians, external roller shutters, cedar shutters, timber shutters and roman blinds and provides more than just a glimpse of the latest in window furnishings.