Osteoporosis Prevention - Practical Advice
Osteoporosis Prevention - The Benefits of Regular Weight Bearing Exercise - by Ann Nielsen
One in two women and one in three men over 60 years of age in Australia will experience a bone fracture related to osteoporosis*. These are real and very scary statistics that should remind each and every one of us of the need to assess our own risk and encourage us to be proactive in ensuring either prevention or management of osteoporosis.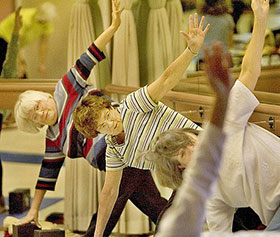 In this regard, there are some practical things everyone can do, including undertaking regular weight bearing exercise.
What is Osteoporosis
Osteoporosis occurs when bones lose minerals, such as calcium, more quickly than the body can replace them. This leads to a loss of bone thickness, leaving bones fragile and brittle and prone to fractures.
According to the Osteoporosis Australia, osteoporosis affects both women and men, but with women at a greater risk of developing the disease than men.
Oestrogen is an important hormone for maintaining healthy bones and oestrogen levels can decline rapidly after menopause. Decreased oestrogen levels cause bones to lose calcium and other minerals at a much faster rate and can result in bone loss of up to 5% per year after menopause.
Osteoporosis Prevention
Prevention is definitely the key and there are practical things that everyone can do to reduce their risk of developing osteoporosis.
Strong, healthy bones require calcium, so ensuring that you are getting the recommended daily requirement of calcium in your diet is very important.
Vitamin D is essential for promoting calcium absorption by the body, so you should also ensure that you are getting enough of it. Most people meet their vitamin D needs through exposure to sunlight, although deficiencies can be treated with supplements.
If you are concerned about your diet, or your risk of osteoporosis in general, you should seek appropriate advice from your Doctor, GP or qualified dietician.
Provided that your dietary requirements are adequate, performing some variation of weight bearing exercise at least 3 times a week is vital to maintaining and developing bone strength.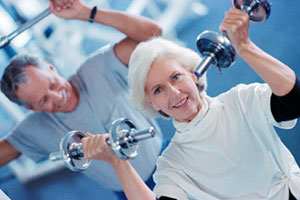 Weight Bearing Exercise
Weight bearing exercises are the only exercises that enhance bone growth and stop bone loss. Basically muscle pulls on bone, and so in turn builds stronger and denser bones.
Muscle strength and joint stability are also improved, which is important for preventing falls and resultant fractures.
Exercise must be both regular and ongoing as any positive gains in bone strength will be lost once you stop exercising.
Other benefits you will get from lifting weights include:
Improved co-ordination and balance that also aids in preventing falls
Increased functional strength that improves your ability to carry out daily tasks and activities
Maintenance or improvement in posture
Relief from or lessening of arthritic, back, neck, shoulder and knee pain
Increasing your sense of well-being and general mood
Improving your energy levels
Seek Out Appropriately Qualified Personal Trainers
When embarking on any kind of fitness program, it is important to obtain professional advice and guidance, including an all-clear from your Doctor or GP. You should always seek advice that is both age and gender appropriate and then undertake your exercise in an environment that is conducive to achieving long term results.
There are, for example, qualified professional trainers whose specialisation is women 40+ looking to improve their health including reducing the risk of osteoporosis.
To maximise the benefits of weight bearing exercise, you should end up with an appropriate full body, functional weight training program that is both safe and effective with an emphasis on correct weight lifting technique.
- Ann Nielsen, Qualified Master Personal Trainer
* Source: Osteoporosis Australia. For more information visit - http://www.osteoporosis.org.au

About the Author - Ann Nielsen

Ann Nielsen is the owner of Tailored Fitness, an exclusive personal training studio located in the Perth suburb of Duncraig.
Ann's objective is to deliver visible results to her clients and in doing so, help them realise just how much they can achieve both mentally and physically.
QUALIFICATIONS: Qualified Master Personal Trainer - Australian Institute, Registered Fitness Trainer (Master Trainer Certificate III and IV (Personal Trainer, Older adults and Children, Gym Instructor)) Les Mills Pump, Cycle instructor, Circuit Instructor, Bachelor of Business, Senior First Aid.
About Tailored Fitness

Located in the northern Perth suburb of Duncraig, Tailored Fitness is a private, professionally run personal training studio that charges no joining or membership fees.
They aim to make personal training a comfortable and non-threatening experience by providing experienced, personable male and female personal trainers that motivate and support the achievement of fitness goals.
A number of different packages are available, making it affordable to achieve the results that can provide a lifetime of great and ongoing health.