New Kitchens, Kitchen Renovation, Kitchen Companies in Sydney
Selecting the Right Kitchen Company for Your New Kitchen or Kitchen Renovation Project in Sydney
The expense and inconvenience associated with installing a new kitchen or undertaking a kitchen renovation project means that a new kitchen must stand the test of time, including the inevitable changes in fashion and household requirements.
It is therefore crucial to spend as much time in upfront planning as possible and to select the kitchen company that is right for you.
Choosing the Right Kitchen Company
Once you have given enough thought to exactly what you want from your new kitchen, visit as many kitchen company showrooms as you can. This will provide insights into the latest kitchen design trends and some idea as to the capabilities of individual kitchen companies.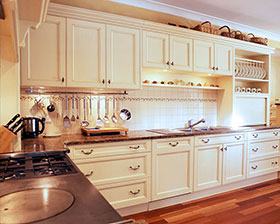 Always remember that when selecting a kitchen company it is important to look beyond the glamour of the showroom and the silver tongue of the salesperson. It is the skill of the designer and the installation team that are the most important factors.
Tips for Choosing the Right Kitchen Company: 1. Visit as many kitchen showrooms as you can 2. Make sure to research the installation track record of the kitchen companies you consider
A Good Kitchen Designer is Critical
Table stakes these days in relation to the kitchen design process is a dynamic 3D computer representation, complete with walk throughs and realistic renderings of different styles, finishes, accessories and appliances. Not only will this give you confidence in the final design but could help eliminate any design kinks such as cupboard and fridge door clearance problems.
A competent kitchen designer should be able to come up with a design that matches both your requirements and your budget and surprises you with a few things you hadn't already thought of yourself. If they don't, you're probably working with the wrong designer.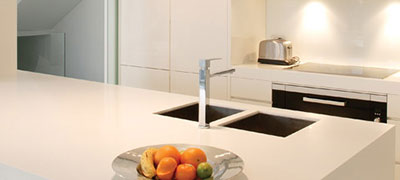 The credentials of your kitchen designer should always be confirmed, including experience, design portfolio and client references. If you decide not to use a kitchen company, a qualified kitchen designer can be sourced through The Kitchen and Bathroom Designers Institute (KBDI).
Kitchen Design Tips: 1. A 3D computer visualisation of what your new kitchen will look like will help avoid design errors and oversights 2. If your kitchen designer doesn't come up with ideas you haven't already though of, look for a new designer.
Kitchen Flatpack Options
Renovating a kitchen or installing a completely new kitchen can be a very expensive process, but there are budget conscious options available. Ikea, for example, offer a range of stylish flat-pack kitchens that you can even install yourself for a fraction of the cost of a fully custom designed kitchen. The bonus with Ikea flatpack kitchens is that you get to see them fully installed and accessorised in a showroom environment.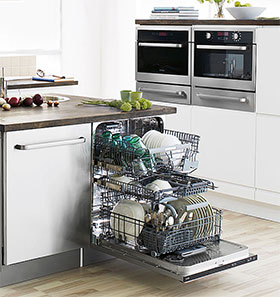 Choosing Kitchen Appliances
The cost of appliances makes up at least 50% of the total cost of any kitchen renovation. The choice of appliances will therefore largely be dictated by budget, but there are of course other considerations, such as style and the range of features offered by each appliance.
Given the amount of use that the average kitchen will get in it's lifetime, the functionality of kitchen appliances is important. For example, if you bake a lot, perhaps double wall mounted ovens will make a better choice than a single floor stove. It goes without saying that you must choose a style of appliance that matches the kitchen design.
Kitchen Installation Considerations
The complexity of a kitchen installation is such that many things can potentially go wrong. Unless the most basic of flatpack installations is being undertaken, it is highly recommended that a kitchen company be engaged to manage the project from end to end.
Thoroughly check the credentials of your kitchen company and it's installation team, including appropriate licensing that can be checked through the NSW Government Office of Fair Trading.
Alway remember that a kitchen company is only as good as it's latest completed installation or kitchen renovation project. Whilst track record is a very important factor, you should check there have been no recent changes such as the loss of key staff or contractors that may impact the final quality of your kitchen.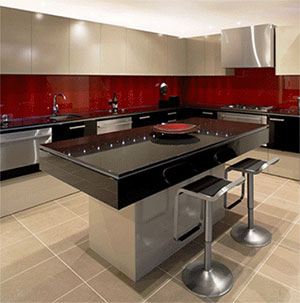 Sydney Kitchen Renovation Directory:
Kitchen Showrooms
Useful Links: