Fresh Ingredients Key to Jus Burgers Success
Burger joint hits the spot in Leederville - NOW open in Subiaco
One of the trickiest tables to organise in Perth has very little to do with fine dining. It seems the hottest dining experience at the moment is a burger joint - to be more specific Jus Burgers located in Newcastle St, Leederville.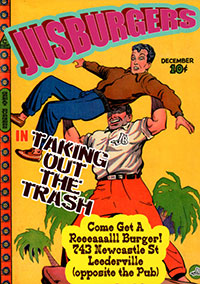 And when you dine (eat?) there it is easy to see what all the fuss is about. Great location, buzzy decor and atmosphere, attentive service and great food combine to produce a more than satisfying food experience.
Popular Appeal
I guess the cross generational appeal of a really good burger has something to do with the popularity. The place works just as well for trendy Gen-Ys as it does for elderly folk and even families with kids of all ages (you just need a bit of patience to get in as you can't book NB the staff are usually very helpful in this regard).
Burger Hero - Justin Bell
Jus burgers is the brainchild of Justin Bell who has spent the last 18 months perfecting his burger offering and is clearly very passionate about all aspects of his operation, especially the all important food part.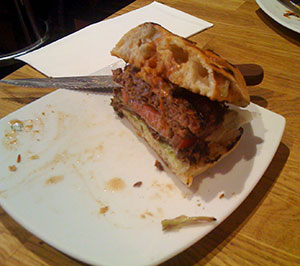 The Best of Fresh Ingredients
For any food establishment that achieves greatness, fresh, quality ingredients are always to the forefront. Jus Burgers is no different, with a strong focus on Western Australian produce. All the burger components are hand selected from the best of locally available meat, poultry, fish and vegetables. Turkish bread for the buns is baked daily in Victoria Park. Even the spuds for the chips (or is it fries?) must pass a QA before making it to the fryers (after all you can't have a great burger without great chips). A vegetarian burger featuring a chick pea (falafel) pattie is also available.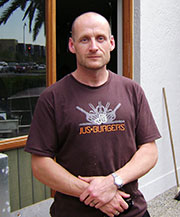 Consistent Quality
It all comes together on the 1200mm chargrill fully imported from the US. Extensive taste testing (someone had to do it) has shown that the burgers of differing types are consistently high in quality, a testament to the attention to detail and training that no doubt goes on behind the scenes
We've just about road tested the entire menu, but our favourite would have to be the Original Beef Burger with the Turkish Lamb Burger not far behind. Jus Burgers is not licensed but serves juices and shakes made from freshly sourced produce - the pomegranate smoothie we had on one of our visits was sensational.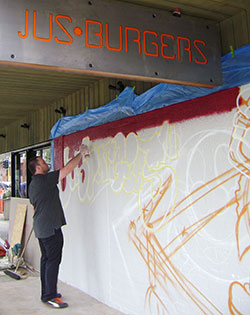 Jus Burgers Now in Subiaco
It is not surprising that Jus Burgers is now expanding, with a new "joint" located on the old Henry's of Subiaco site in Roberts Rd (corner of Rokeby Rd) now open in Subiaco.
It will be interesting to see if the trading "hoodoo" attached to what has hitherto been a bit of a dead spot in otherwise bustling Subiaco will be finally broken. If anyone can do it, it will be Justin Bell and Jus Burgers.
Trading Hours
Closed Mondays
Tuesday to Saturday - 11.30am - 10.00pm
Sunday - 12.00pm - 9.00pm
No Bookings Taken, Unlicensed