Cheapest Replacement Ink Cartridges for Epson, Canon, HP & other Inkjet Printers
Tips for Buying the Cheapest Replacement Ink Cartridges - Genuine Printer Cartridges, Compatible Printer Cartridges, Cartridge Refills for Inkjet Printers
When buying replacement printer cartridges for an inkjet printer, there are a number of options available at various price points for most printer models. These options include purchasing cartridges from the original equipment manufacturer (known as OEM cartridges), purchasing non-OEM compatible printer cartridges, buying re-filled printer cartridges, having your existing cartridges refilled or even refilling the spent cartridges yourself. You can also choose to buy in-store or online.
With so many options, it pays to do a little research before buying a new set of ink cartrides.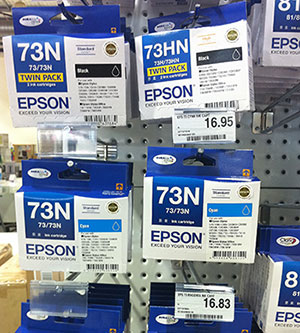 Genuine Manufacturer Cartridges (OEM Cartridges)
The easiest and safest option for buying replacement printer cartridges is to simply buy the genuine OEM cartridge specified by the printer manufacturer from a reputable office goods retailer such as Officeworks or Harvey Norman. This is also the most expensive option, and can cost upwards of $60 for a full set of cartridges, dependent upon the make and model of your inkjet printer.
You will, however, be assured of getting the best possible printing results and longevity from your printer, provided of course you use the printer in accordance with the operating instructions.
Compatible Cartridges (Non-OEM)
For most popular models of printers it is possible to source compatible non-OEM cartridges at a significant discount to genuine OEM cartridge prices. In some cases compatible cartridges can be as much as 33% cheaper than OEM cartridges.
But with the discount comes the risk that you'll not achieve optimum printing results and that the number of pages printed from the compatible cartridges may be lower than that from OEM cartridges (thereby eroding the value of the discount). Inferior inks and cartridge components may also cause damage your printer. But dependent upon print quality requirements and volume, compatible cartridges may be a good option for some.
Buying "branded" compatible refills from a reputable, established company such as Cartridge World that provides a full product guarantee is also highly advisable.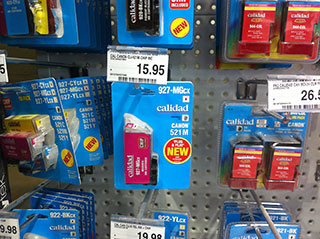 Printer Cartridge Refills
Highly dependent upon the model of printer you have, cartridge refills may be an option. Re-fills can be as much as 50% cheaper than OEM cartridges, but the big issue here is availability as some printer manufacturers make re-filling difficult and re-fill techniques may not yet have been developed for very new printer models. Brother and Canon seem to offer the best possibility for refill availability.
It should also be noted that with millions of spent printer cartridges going into landfill every year, cartridge refills are a very sensible option from an environmental friendliness perspective.
Filling Empty Cartridges Yourself
If you have plenty of time and patience, filling your empty cartridges yourself is also an option. Refill Kits are available for a number of popular printer models and can be sourced at office goods retailers and even supermarkets. It probably goes without saying that refilling your own cartridges is a potentially tedious and very messy undertaking.
Where to Buy Replacement Printer Cartridges
Replacement printer cartridges can be bought in-store at all good office product retailers. The larger the retailer, the more likely that the cartridge for your printer will be available but it should never be assumed that all retailers will have the cartridges you need. It's always best to check ahead with a quick phone call to make sure before you venture out.
Buying online is also a viable option, but make sure that the cost of delivery is fully factored into pricing. Also, identifying the correct cartridges for your printer can be a little difficult on some sites so care needs to be taken when making a selection. The problem buying online is that if you get it wrong and end up with incompatible cartridges, rectifying the problem may not be all that easy or convenient.
Importantly, buying printer cartridges online will not allow you to check the use-by date on the cartridge package. Using out of date ink cartridges can result in lower quality printing and cause problems with the operation of the printer itself.
Always Consider the Total Cost of Inkjet Printing
When buying a printer it is wise to take into consideration the overall cost of printing each page rather than just the attractively cheap price of the printer itself. Over the lifetime of a printer, the cost of the ink cartridge replacements can be many times the actual cost of the printer, even with relatively modest daily usage. Below we have compared the purchase price and ink cost per page for three popular all-in-one inkjet printers.
Perhaps not all that coincidentally, the purchase price and ink cost-per-page are remarkably similar for all three models. In the interests of achieving the lowest possible total printing cost, it is strongly recommended that similar research be done before buying any new printer. All the information needed should be available on manufacturers' websites.
Epson Stylus TX610FW
Canon Pixma MP560
HP Photosmart Premium
PRICE
$187.00
$168.00
$199.00
NUMBER OF CARTRIDGES
4
5
4
COST OF FULL CARTRIDGE SET (GENUINE)
$67.68
$119.75
$65.48
CARTRIDGE LIFE (AVE PAGES*)
290
570
288
APPROXIMATE INK COST PER PAGE**
0.23c
0.21c
0.23c
ALL PRICES FROM OFFICEWORKS, SEPT '10 (EXCEPT CANON CARTRIGE PRICE FROM CANON.COM.AU, SEPT '10)
* USING AVERAGE MANUFACTURER'S PUBLISHED PAGES PER CARTIDGE TYPE - MAY VARY WIDELY DEPENDENT UPON TYPE OF USE, PAPER ETC
** ACTUAL COST PER PAGE MAY VARY WIDELY DEPENDENT UPON TYPE OF USE, PAPER ETC
Key Tips When Buying Replacement Ink Cartridges
Here are some key tips to bear in mind:
If print quality is not important, the cheapest option may well be the best replacement option.
When buying compatible non-OEM printer cartridges, always ensure that the retailer is reputable and offers a reasonable product guarantee.
Check the use-buy date on the printer cartridge package as there is a significant deterioration factor that can affect print quality and printer performance.
When buying ink cartridges online, always be very careful to ensure that you order the right cartridges for your printer make and model.
When buying in-store, always check that the cartridges for your printer are actually available before venturing out to the store.
Get free advice from experts including the operators of cartridge refill franchises in your area. You might be surprised by the quality of the advice!
Choose a printer model that uses individual colour cartridges rather than a model with the colours incorporated into a single cartridge. This will enable you to buy only the cheaper single colour cartridges as required.
When the printer indicates that the volume of ink in a cartridge has run out, try removing and reinserting the cartridge in question. This may reset the cartridge volume and provide some additional usage. There are technical reasons why cartridges cannot be used down to the very last drop, but with volume measurement sometimes out by as much as 80%, this little trick is always worth a try.
Buy the Right Printer for the Job
Perhaps the simplest advice to achieve the cheapest overall cost of printing is to buy the right printer for the job in the first place!
This bit of advice is probably a bit late if you're not in the market for a new printer, but nonetheless it's a worthwhile consideration before you buy your next printer.
The total cost of printing can vary significantly dependent upon the type of printing required. The necessity for colour printing should always be considered carefully, as should the requirement for high resolution photo printing as both of these types of printing can be very expensive compared to lower quality, plain black text printing, especially at high volumes.
For the latter, an entry-level laserjet printer (priced from around $120) may be a much better option, with laser toner cartridges yielding upwards of a thousand pages and cheaper cartridge refills normally readily available.
A quick call to a printing expert (think ink refill franchise) in your local area should result in useful advice both in relation to a new printer purchase and the cheapest options available for replacement ink cartridges.