Allure Contemporary Furniture Homewares & Lifestyle Products, Highgate, Perth WA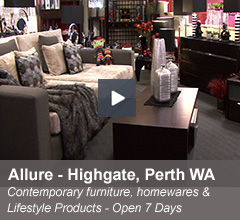 Allure Furniture Homewares & Lifestyle
499 Beaufort St
Highgate, Perth WA, 6003
(08) 92289122
Contemporary Furniture, Homewares & Lifestyle Products
Russell, Andrew and the team welcome you to ALLURE, located on one of Perth's most vibrant shopping strips. In store you'll find a stunning collection of contemporary furniture, homewares and lifestyle products from Australia and around the world. Enjoy our friendly relaxed atmosphere while you browse for that special gift or a treat for yourself.

ALLURE's aim is to have products that are just a little different from other stores and our qualified staff are here to help you make the right choices. Whether it's local hand made jewellery, a funky knife block or a unique piece of artwork, you'll find it here. And if we don't have it we'll source it for you!

We present you with a diverse range of contemporary furniture including luxurious sofas, dining tables, storage units, chairs and more. There's always something new to see in-store and as we directly import much of our product we can let you know what's on the horizon too.

ALLURE can also help you with local or interstate deliveries, provide gift vouchers, and help you with your wedding registry. We are also able to offer a fully qualified Interior design service for your convenience.

Drop in and check out our range of contemporary furniture and homewares today.