Surry Hills Tyre Service
Wheel Alignments & Tyre Fitting.
5 Nickson St, Surry Hills, NSW, 2010

Visit Website
Call Now! (02) 9318 2622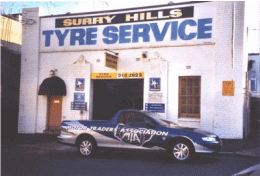 Surry Hills Tyre Service, service and maintain a wide range of vehicles as well as carrying out manufacturers handbook services.

Tyres are available for all makes and models including small SUV's up to large 4WD's. Our trained technicians can carry out steering alignments and wheel balancing with our new and improved workshop equipment. We use a Powerrex Wheel Alignment system, Hoffman Wheel Balancer and Eagle SMF tyre changing machine. Listed here are just a few of the vehicles we service for our customers: Bmw, Ford, Ferrari, Holden, Honda, Jaguar, Lexus, Maserati, Mazda, Porsche, Saab, Toyota, Volvo and VW.

Come in and meet our team of technicians where we give friendly service at a reasonable price.
No Trading Information available.
There are currently no reviews for this business.