Point Break Drama Acting School
Point Break Drama is the Premier Acting Studio on Sydney's Northern Beaches for Kids, Teens & Adults
28 Fisher Road, Dee Why, NSW, 2099

Visit Website
Call Now! 0412 676367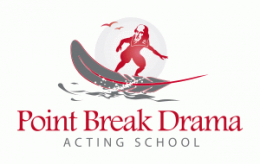 555
Point Break Drama is the premier Acting School on Sydney's Northern Beaches, offering short courses to teenagers, kids and adults.

Adults can choose from three levels of Acting Beginners, two levels of advanced acting and two levels of Screen Acting.

Acting Courses for Teenagers run on three days of the week on Tuesday, Wednesday & Thursday afternoons with different age groups to choose from.

Youth Screen Acting is held on Tuesday afternoons & kids Acting is held on Thursday afternoons.

Most courses are run concurrently with the official school calender for NSW and School Holiday workshops are available.
Trading Hours:
Mon: 6.00 pm - 8.00 pm
Tue: 4.00 pm - 9.30 pm
Wed: 4.00 pm - 10.30 pm
Thu: 4.00 pm - 9.30 pm
Payment Methods Accepted:
Cash, Cheque, Money Order, Eftpos, Paypal
Macbeth Experience
Doing 'MacBeth' with Point Break Drama School was a real learning curve for me and I learnt a lot about acting, Shakespeare and myself as an actor. As this was my first big theatrical production, I was a little nervous going in and unsure on my abilities. However, Blair and Paul made me feel comfortable with exploring new views on a character or scene and pushing myself mentally to stay focused on improving my performances. I always felt welcome and comfortable under their directions and would love to do more plays with them in the future, learning more and more as I go.
- Emelia
Great services
I like the services they offered. Once served by them you will realize it
- Joshna
Point Break Drama
Over the past few terms, I have attended Point Break Drama Acting School in Dee Why. I have taken weekly courses since the start of 2009 and I have loved every minute of it.

I was first introduced to Point Break by a friend of mine and soon fell in love with it. I have had great fun learning from the great teachers and also exploring acting alongside students with a similar passion.
I have made great friends at Point Break and at the same time, seen a change in both my acting ability and the acting ability of those around me. Most of the people who were in that first class that I attended are still there today.

I would almost certainly recommend Point Break to any person who is looking to gain confidence or have fun. It has been a great experience and I have enjoyed every minute.
- Will McInnes
Incredible acting program...
As a young actor, this course has provided me with exactly what I need, good teachers who are there both to help you develop your skills and to just show you a good time, and other actors who in turn have also helped me learn how to develop my own skills….. I did try other acting schools first but no others could offer the diversity, fun, experience, teachers, talent or, of course, the end of term performance….If you have a budding young actor who can not stop performing, singing or are just plainly to energetic, Point Break Drama will channel these talents and energy into an incredible acting program. I am not going to stop until the age limit makes me leave.
- Grant Hogan 15 years – student
I hold everyone involved with Point Break Drama in the highest regard...
I have always particularly enjoyed the environment in which Point Break Drama work; not only is it is relaxed and friendly, which encourages creativity, but also focused and determined with education at it's fundamental core. I cannot recommend the school and the opportunities they provide more highly. I hold everyone involved with Point Break Drama in the highest regard.
- Leigh Pickford – Maura Fay Casting