Feelsecure Pest Control
Pest Control Services
Servicing the Canterbury-Bankstown Area of Sydney, NSW

Visit Website for Locations
Call Now! (1800) 136356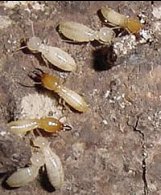 Feelsecure services is an established pest control company of 21 years, that uses only the latest and best Technology available.

Pest control has advanced in all aspects, there is a specific treatment for all pests encountered. We use treatments that are safe and environmentally friendly where available. These treatments are suitable for people with allergies, valued pets and for young children.

We treat the following pests:

* Termites: Termite baiting monitoring systems; Pre Slab Treatments
* Cockroaches
* Spiders
* Ants
* Bird Proofing
* Rodents
* Lice
* Mites
* Wasps and Bees
* Fleas

Please contact us for more information.
No Trading Information available.
There are currently no reviews for this business.