Chilli Cheap Coolrooms
Specialising in fully Mobile Coolroom Hire for your next function across the Sydney area
Unit 25, 272 Victoria St, Wetherill Park, NSW, 2164

Visit Website
Call Now! 0452 472665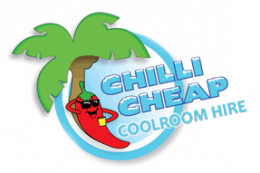 Conveniently located in Wetherill Park, Sydney, Chilli Cheap Coolroom Hire is a smart and economical hiring solution to your cool storage problems. Our mobile coolrooms are ideal for your next party, event or function.

We provide clean, reliable and cheap coolrooms that are trailer mounted, fully mobile, generous in size and self contained with storage and shelving. Pick-up at your convenience and save money, or arrange for delivery to your Sydney party or event.

Our mobile coolrooms are ideal for:

* functions - weddings, engagements and parties
* corporate events
* restaurants
* sporting clubs
* school fetes & carnivals
* mardi gras
* caterers

We've made the coolroom hire business simple and easy, so please contact us to arrange a mobile coolroom for your next special occasion.

Coolroom Hire By Arrangement. Available across the Sydney Metro Area.

Pick up and save, or have the mobile Coolroom delivered to your event location. Simple!

Visit our website for more details (see link above).
Payment Methods Accepted:
Mastercard, Visa, Paypal
Saved us during a breakdown
Thank God for Chilli cheap or our business would have been severely impacted when our cold room broke down. Thanks to the prompt and caring service we were able to have our stock moved into a mobile cool room within hours.
- Grateful in Penrith
I would definitely use them again.
I hired a Chilli Cheap Coolroom for my son's 21st birthday party and was very pleased with the service and the coolroom. I would definitely use them again.
- Mike, Fairfield