Annandale Animal Hospital
Animal Hospital - Everyone at this practice has a genuine love for animals..
62 Moore St, Leichhardt, NSW, 2040

Visit Website
Call Now! (02) 9550 9600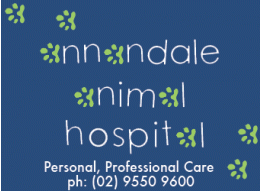 Annandale Animal Hospital was established in 1992 and has grown into a leading Sydney Veterinary practice.

We are 100% committed to our community - both the animal and human variety. We strive to provide high quality care with outstanding, friendly service. We are all here to help, to listen, to advise and to understand.

Like its human equivalent, Annandale Animal Hospital offers preventative, diagnostic, surgical and emergency services.

Additional services include:

* Cat Adoption
* Puppy Pre-School
* Home visits, Pick up and Delivery
* Microchipping
* Boarding
* Nutrition
* The Small Pet Shop

Please contact us for more information.
No Trading Information available.
There are currently no reviews for this business.