Able Mort-Ant
Pest Control Services
Servicing the St George-Sutherland Area of Sydney, NSW

Visit Website for Locations
Call Now! (02) 9522 4149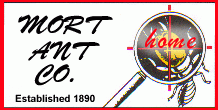 Established in 1890, Mort-Ant is the oldest and most experienced pest control company in Australia. The company is committed to providing the most up to date, effective and natural methods of pest control available.

Over the 110 years that we have employed what we consider to be the latest, most innovative and technically superior methods used in pest management as displayed for you on this website.

Whether you need pest control for your home or business, we can provide you with the most reliable, non-toxic products. We believe our methods, combined with our many years of experience, are second to none in the field of pest management.

Contact us for more information.
No Trading Information available.
There are currently no reviews for this business.