Abbott Solutions
The result we seek is simple; Absolute client delight.
3 Alvan Street, Mount Lawley, WA, 6050

Visit Website
Call Now! (08) 9272 8611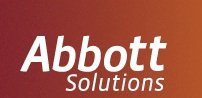 Abbott Solutions in Mount Lawley offer a full range of taxation, accounting, business consultancy, superannuation, bookkeeping, financial planning, legal, lending and indigenous services to focus on the best solution for you. We partner with our clients to enhance the performance of their business, making it more profitable, valuable and enjoyable. For more information visit our website.
No Trading Information available.
There are currently no reviews for this business.