Dr Angelo Lazaris
Specialising in cosmetic and restorative dentistry...
Suite 3.01, 'ikon House', 65 York Street, Sydney, NSW, 2000

Visit Website
Call Now! (02) 9299 5504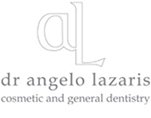 Dr Angelo Lazarisis a general dental practice in Sydney's CBD with a special emphasis on cosmetic and restorative dentistry.

Our range of treatments is vast, as we offer everything from detailed examinations and diagnostic consultations through to reconstructive dentistry solutions.

For a cosmetic approach, tooth whitening or bleaching will give your teeth a naturally bright smile. Porcelain veneers will restore worn or imperfect teeth to restore your beautiful and dazzling smile. We can straighten your teeth using Invisalign; clear braces in replacement of unsightly metal braces. We utilize all modern technologies, including ceramic, metal-free crowns and bridges that are exceptionally strong and durable, as well as completely natural in appearance.

For more information please contact us.
No Trading Information available.
Porcelain Veneers
I used to be ashamed of my teeth before I visited Dr. Lazaris. With brand-new porcelain veneers, I can smile at everyone, anytime!
- melvin mceachern
Happy with the reults
Dr. Lazaris corrected my overbite and I'm very happy with the result
- Gina Richards
Good job!
He treats each of his clients equally well. I went only for cleaning and he gave me the same priority he gives those who went for a surgery! Thanks Doc!
- artandrejo
Professional Dentist
Dr. Lazaris is a skilled professional dentist. He works fast but his solutions last a long time. I've already referred my friends to him, and we're all happy he's our dentist.
- Lina Brookes
Invisalign Fixed
Invisalign fixed my crooked teeth minus those embarrassing and painful braces. I call it a miracle.
- Jodi
Friendly dentist :)
I've been looking for a new dentist and I'm glad a friend recommended your clinic. None of my previous dentists were as friendly and patient. Thank you for taking the time to explain the procedures to me.
- LP User - 2000
Excellent dentist
Dr. Angelo continues to help me with my TMJ. He is wonderful. He takes all my concerns into consideration and created a treatment plan that did not require surgery. My jaw is better now, thanks to him.
- Ruby